Hello, I am a completely new user and I have combed through the user guide but I am still having some difficulty understanding how to source an image using the MediaPlayer or ImageFile nodes. With the ImageFile approach I keep getting the error:
[16:12:49] [Error] ImageFile: (41) image not loaded: FileSystem input/output error:
File load failed: ccat_effect.mov
I tried moving the file to a Media folder within the Screenberry project folder but I got the same error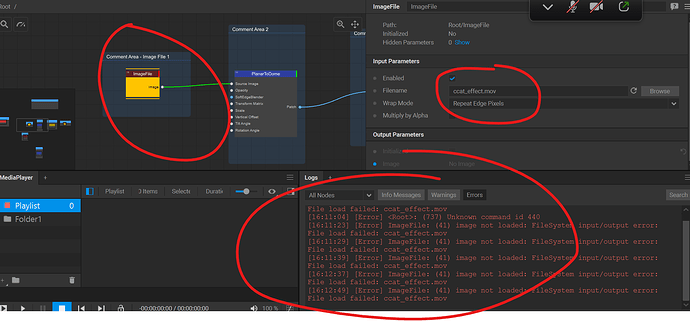 I was also a bit confused because I used the sample dome project provided by Screenberry and in that project there is no ImageFile node that is sourcing the content for the project. In that project it is using .rva folders that have converted the original media file.
Is there a significant different between using .rva and using the ImageFile node to source the media content? How do I avoid the filesystem error when sourcing content like this?
Any information on this would be super helpful.
Thank you,
-Azmat